Network Outfitting project
I was assigned to the Network Outfitting project and this is a 5 day activity and a two-person job. I grabbed this opportunity even if the task will be very hard for me since the last time I did this was some time ago.
Travel
From Aichi ken, I flew to Nagasaki and took a bus for 2 hours to reach Sasebo and from Sasebo bus terminal and I walked 15 minutes going to my hotel.
​Meeting
I had a conference call with my Boss and the Client to discuss the activity. I'm aware what activity looks like but was not aware how big it is. So this is a bit of challenge for me. During that call I found out that we have missing tools that we need. And I need to relay this conversation to my Japanese co-worker after that meeting.
​Task
Switches​
Install up to 41 network switches per customer instructions

​

Collect Serial Information for each switch and rack elevation

​

Install additional power supply to the 48 port switches

​

Install additional fans to the 48 port switches

​

Patch each port to the assigned patch panel per customer instructions

​

Perform professional cable management and request customer approval

​
Access Points​
Install up to 90 Access points on the ceiling using provided brackets

​

Collet Serial, MAC address and location

​

Connect to network jack already installed on the ceiling

​

Confirm the Access Point is powering up. 

​
Phones​
Install the corded and cordless phones to designed location

​

Collect serial number, MAC address and location

​

Make sure each phone power up correctly.

​
VTC Equipment​
Install 4 TVs at designed rooms per customer instructions

​

Attach the video conference equipment to the TV top.

​
1

st

 day Challenges, accident

​



Since we weren't able to secure a gate pass, we were not authorized to enter the vicinity causing the activity to be delayed for 2 days.
Actual Activity

​



After 2 days we secured our gate pass and that day is Friday and, the POC showed us all the telecommunication rooms in two buildings. There are 5 telecommunication rooms and each room has 2 rack cabinets and luckily the switches are already installed on the cabinet. We still have a lot to catch up on this activity. The POC explained to us what are the things needed to be done. We've decided to proceed to patch each port to the assigned patch panel and make sure the cable management is nice and neat. This patching is a little bit challenging for me since the last time I did this was for 3 switches only, but for this task, we need to patch 41 switches and each has 48 ports. The 1st rack was a bit of a challenge because we need to figure out how to hide cables and there are different cables like for voice, access point, and desktop computer/printer. The Telecommunication room took us to complete 2.5 hours and we need to ask the POC to check the patching we've done before going far to avoid rework. The POC gave me a suggestion on how to patch the cable neatly. After that, I need to relay to my teammate and explain to him in Japanese language, so again, that's a bit of a challenge to me, since I'm not that good at explaining things in Nihongo. During that day, we didn't complete patching for all TR's even though we worked some extra hours and decided to continue the task on the next visit.​
During weekends, supposedly we don't have work, since there are some tools needed for the next task, we decided to work for 1 hour to look for additional equipment that we will use on the next visit.
On the 2nd day of the activity, we decided to go on the next task which is installing an access point, since we've only left 2 days to complete the task and there are 87 AP's need to install. The strategy was I'll be the one who will install into the wall and to the ceiling and my teammate will do the labeling of port numbers and write down the MAC address of each AP's before installing to the wall. We started on the 1st floor of the 1st building, this took us to finish for 3 hours and we only finished the 1st building on the said day.​
On the 3rd day of the activity, as per POC's suggestion, we started mounting the two 55 inches TV and VTC (Video Conferencing Solutions). This took us much time figuring out how to mount the TV and the VTC. We manage to mount the TV but the problem is the two TV is not level with each other, I talked to my teammate that if we sit and think about how to level this TV we won't finish anything and there is a lot of tasks that need to complete. The time is ticking and there are some things we needed to buy so we decided to go to the hardware and buy concrete anchors that we will use to mount the Cisco phones. When we got back we started to continue the AP's installation on the 2nd and 3rd building and continue the TV mounting after the AP installation. For the 2nd building AP's installation, we managed to finish the 3 floors for the total of 6 hours compared to the 1st building we complete for 8 or 9 hours.
In the gymnasium, in this building, there are 7 AP's need to install and four of them require a taller ladder, the wall that AP needs to install is 22FT tall. Since I have Acrophobia (Fear of Heights), I cannot do this task and we don't have a tall ladder, that's why we informed my U.S team that we need a scissor ladder and look for a person that has experience installing on the high ceiling. Finally, after two days of searching for a scissor ladder, the POC was able to find one tall ladder. The struggle climbing the ladder was intense. I was sweating in cold weather and my knees were shaking as I braced myself on top. We managed to install 2 APs only since the school has an event at that time and we only had 2 hours to utilize the gymnasium. A total of 4 APs were installed out of 7 APs. After that, we needed to go back to have all the TVs mounted, which we did and was able to level those and also was able to be done with cable management.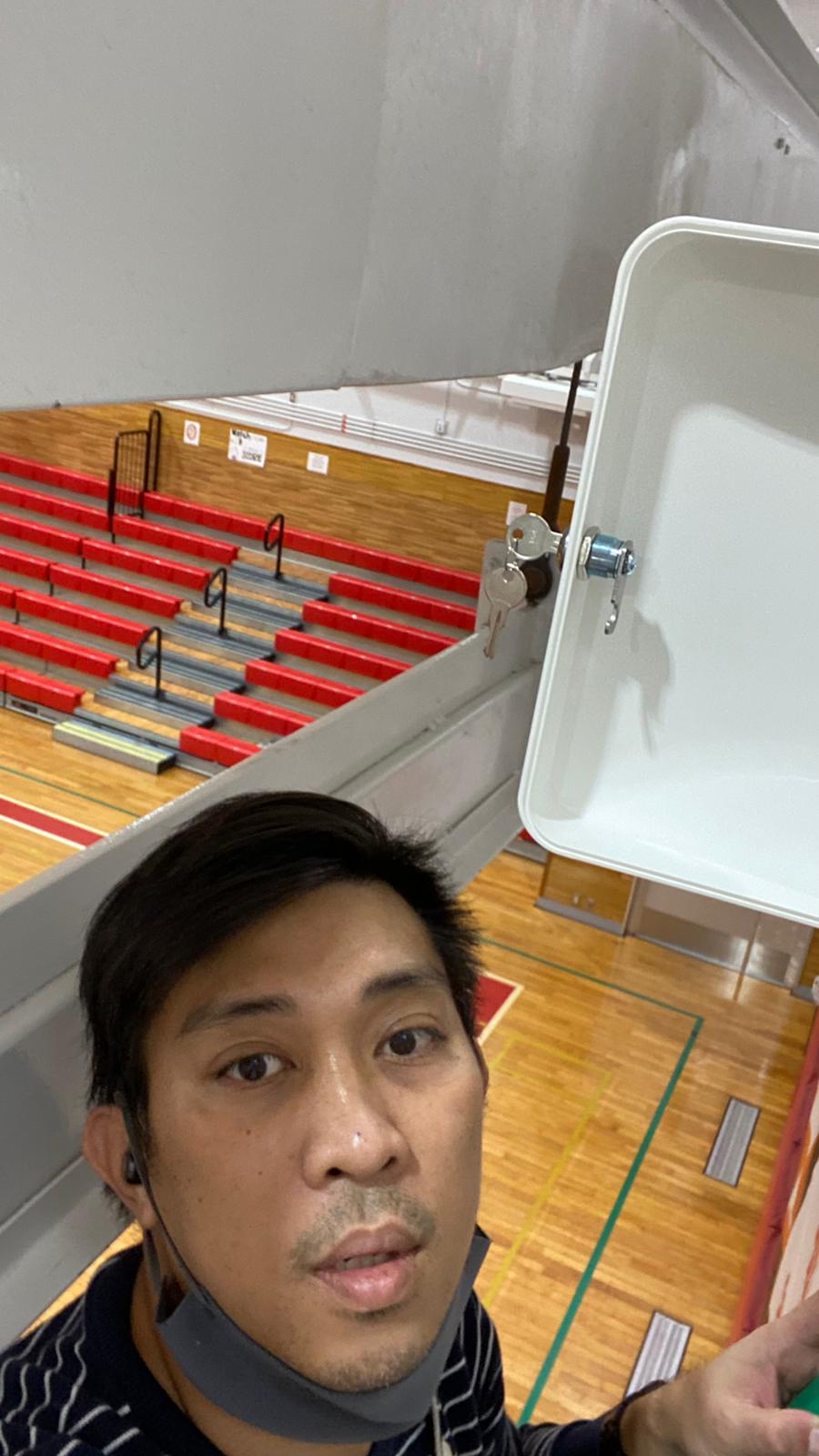 ​
On the 4th day, I was the only one who completed all the remaining tasks on this activity.​
The remaining task was to install the 3 AP's on the gymnasium, set up/wall mount the Cisco phones to all designated areas, and set up VTC stand. I started my activity on setting up phones in the designated area and after that wall mounts the 13 Cisco phones. As I completed all the wall mounting of phones proceed to continue to install the remaining AP's in the gymnasium on a high wall. ​
Later that night I tried to set up the VTC stand, it was hard to set up the VTC because the manual is not clear. I needed to figure out what is the assigned bolts to each part. I ended up setting up the stand only.​
On my 5th day and last day, the remaining activity was to collect all the switch, access point, and cisco phone boxes and place all of them in front of the building for waste management. It took much time for me since I segregated all the garbage.​ ​
At 12:01 noon, already offsite and went to the Bus station to check the schedule of the bus from Sasebo to Nagasaki Airport.
Great Experience

​



It's been a long time since I experienced this kind of pressure. Therefore, this pressure boost my morale and confidence to do this same activity. In technical aspect, I've learned so much in this activity, because it's been 15 years since I did this, before handling people and doing I.T management role.​